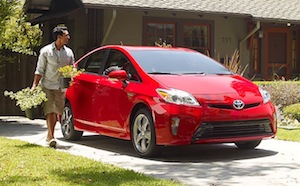 For today's drivers, it isn't hard to choose Toyota when considering a new vehicle. Considering the automaker's reputation for engineering some of the best and most dependable vehicles on the road, this is actually one of the easiest choices a new car shopper can make.
Once you arrive at our Madison area Toyota dealership, though, your choice may be a bit tougher. After all, every vehicle in Toyota's lineup shares the same penchant for reliable performance and quality engineering. Choosing the one that fits your personality and lifestyle best can be a challenge!
Luckily, Toyota has gone to great lengths to help make your decision making process a bit easier. Using Toyota's Find Your Match tool, drivers can answer a few simple questions and get a list of the Toyota models that suit you best with just a few clicks.
Exceptional Dealership Experience Provides Personalized Service
Of course, you could receive plenty of guidance at Toyota of Morristown, too! When you visit out Toyota showroom, our expert staff is always available to help steer you toward the perfect Toyota.
By getting to know each of our customers, our team can offer expert opinions on which vehicles will provide the unique features and qualities that you're seeking. After talking with our sales team, you may even find that one of our Toyota models proves to be a better fit than you hoped for!
That's the best part of the Toyota lineup: its versatility. With so many unique models, you can always find what you're after. From rugged off-road capability to fuel efficiency and street-smart navigation, you'll find the features you're hoping for on our lot. Best of all, every vehicle comes with Toyota's legendary reliability under the hood!
No matter what features you're after, you can count on finding the perfect fit from Toyota. To learn more about the latest models, or for help finding your ideal match, be sure to contact our Toyota dealership serving Madison online or to call our team directly at (973) 540-1111 today!