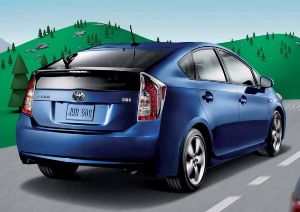 With a stunningly advanced design both inside and out, it isn't hard to understand why the 2013 Toyota Prius has the highest ownership loyalty in its class. Drivers at our Toyota dealer in NJ are learning firsthand what makes this hybrid one of the most attractive vehicles on the road today.
For many drivers, the Prius is the most easily recognizable hybrid out there. That unmistakable profile, though, is good for more than just making a great first impression.
The 2013 Prius' sleek curves and lines are all painstakingly shaped for comfort and performance. The apex in the roofline allows for optimal headroom in the cabin, while the front and rear fascias are contoured into aero contours, which minimize wind resistance to improve fuel economy; the 2013 Prius earns combined EPA estimate as high as 50 miles to the gallon.
Advanced Engineering Makes for a Supremely Efficient Ride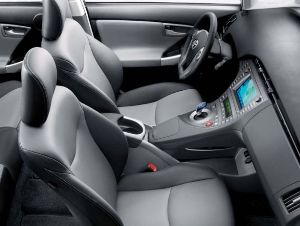 Of course, an even bigger factor when it comes to the 2013 Prius' efficiency is its advanced full series-parallel hybrid system. Combining a separate electric motor and generator with a traditional gasoline engine, the 2013 Prius achieves outstanding efficiency that NJ Toyota fans will love.
Designed with a focus on efficiency, the 2013 Prius' powertrain favors electricity over gasoline at every opportunity. When starting up or running at low speeds, the 2013 Prius runs solely on electricity. Similarly, the gas engine shuts off when braking or stopping and converts momentum back into electricity for later use. This is especially helpful for saving fuel when you can't avoid the garden state's notorious highway congestion.
The 2013 Prius is going green in other areas, too, with different modes available to fit drivers' needs. With EV/ECO/POWER modes, drivers can get the most out of their rides in terms of power and efficiency. Even the available JBL GreenEdge premium audio system is designed for prime sound and reduced power usage.
Drivers looking to reduce their carbon footprint and save at the pump will surely find what they're after in this stunning standout hybrid. For more information on the 2013 Toyota Prius and the rest of Toyota's lineup, be sure to call Toyota of Morristown directly at (800) 968-4141 or to contact our NJ Toyota dealership online today!