Summer winding down and cooler evenings starting to roll around can only mean one thing: football season is starting! With pre-season games kicking off, now is the perfect time to head out to the garage and get ready for the coming season.
Whether you're a diehard fan or just like to check out the game, everyone can agree that there's nothing quite like getting there early and enjoying a solid parking lot party. Whether you root for the Giants or the Jets, love seeing Rutgers in the Big 10, or just make your way to Morristown High on a Friday night, loading up the truck for a classic tailgate is the only way to start things off.
Prep Your Truck for a Solid Season
If you're the type who pushes the extreme capabilities of your Tacoma or Tundra to the limit, then chances are that it's showing some wear and tear. While each scrape and scuff in the bed is a badge of honor, cleaning up the bed is a great idea.

Whether you choose a spray or a roll-on, applying a bedliner is the perfect way to protect your truck's bed from the season's abuse while adding a fresh look. While you're at it, take a ride through the car wash after your bedliner has set for the appropriate amount of time and get the rest of your truck looking its best.
Your fellow fans are sure to appreciate the look of a fresh, clean Toyota when you pull up to get the party started.
Get Ready to Party
Finally, prep for the game by hitting the store for all of the essentials. Fill the biggest cooler you can find with ice and drinks, strap down your tailgating grill, and be sure to grab charcoal. We recommend always having plenty of bungees on hand to keep things organized and secured. The fold-up rear seats of the 2016 Tundra are the perfect place to store straps and cargo nets to ensure you're always ready for the next event!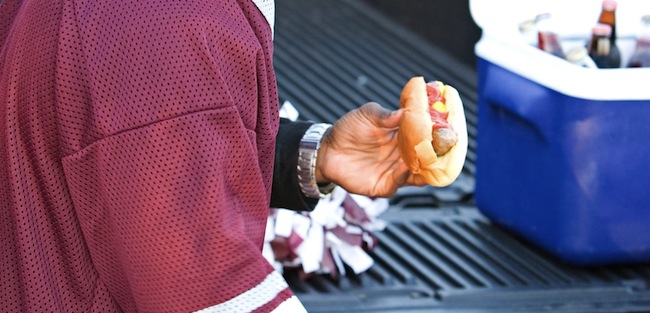 Once you're loaded up, it's time to pickup your buddies and head to the stadium for a classic American tailgating experience! With your Tacoma or Tundra looking its best and loaded to the max with all of your favorite food and drinks, there's nothing left to do but open the doors, pump up the jams, and have a good time until kickoff.
To learn more about loading your truck this season, or to check out a new truck for a football season you'll never forget, be sure to contact Toyota of Morristown online or to call our team of Toyota fanatics at (973) 540-1111 today!