If you've ever dropped by our Morristown Toyota dealership, then you already know that our team loves to have fun. While we never let it get in the way of quality service, we take plenty of enjoyment from making our customers feel at ease and having a good time.
For the full Toyota of Morristown experience, though, you've got to come in and see us during one of our legendary holiday events. This is particularly true when we kick off the summer season with our Memorial Day Weekend extravaganza!
Even if you're not in the market for a new vehicle, our lot is the place to be this Memorial Day; you don't need to take advantage of our great pricing on 2015 Toyota models to take advantage of a great time with our team that the whole family will love!
Special Events Foster Fun in the Morristown Community
This year, we're celebrating the holiday with even more excitement than ever before. After seeing the community come together for such a great time last year, we knew we had to do even more!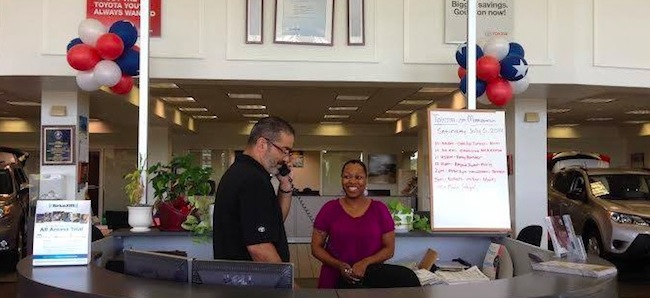 For starters, we'll be satisfying your appetite. In addition to some of the most delicious barbecue you're likely to find, we'll have our old-fashioned popcorn machine popping hot, fresh popcorn all day long!
On top of that, we'll have the kids loving the warmer weather. We'll have a balloon artist putting smiles on every face, while our signature bubble cannon will be launching shimmering bubble sky high for all to see!
Best of all, we're thrilled for the return of Erich the DJ Guy! With a catalog of over 50,000 songs and a penchant for partying, Erich will be keeping the fun going non-stop.
Whether this is your first time coming out to celebrate with us or you're a return guest, we can't wait to see you from 11:00 AM to 5:00 PM on Saturday the 23rd and Monday the 25th! For more information on the festivities, as well as our current specials, be sure to contact Toyota of Morristown online or to call our team at (973) 540-1111!