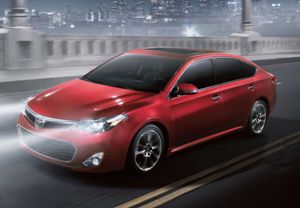 For many of today's drivers, choosing a dependable sedan is the automotive equivalent of going out for dessert and leaving with a scoop of low-fat vanilla frozen yogurt without any toppings. Toyota knows that drivers want more on the road, though, and the 2013 Toyota Avalon takes the vanilla of reliability and sweetens the deal with the syrup of luxury and the sprinkles of spirited performance.
Under the hood of the 2013 Avalon, drivers at our Toyota dealership in NJ will find Toyota's renowned dependability has been seamlessly melded with exceptional performance. A 3.5L V6 engine turns out 268 horsepower and 248 lb-ft of torque, making this reliable sedan anything but mundane.
Toyota fans in NJ will also undoubtedly love the 2013 Avalon's responsiveness. The V6 comes to life with the slightest touch, thanks to a smooth-shifting six-speed intelligent transmission that adapts to drivers' habits. It even helps the 2013 Avalon earn an impressive EPA estimate of 29 highway miles to the gallon.
Luxury is a Standard Feature in the 2013 Toyota Avalon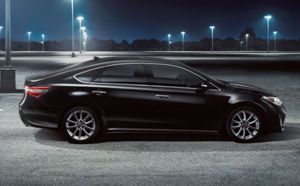 The 2013 Toyota Avalon brings NJ drivers an undeniable air of luxury, as well. The attractive interior features an ergonomic, sweeping dashboard which puts everything drivers need within arm's reach.
Even better, this alluring interior is wrapped in inviting leather trim to ensure comfort throughout the cabin. Passengers in the rear enjoy reclining seatbacks and over 40-inches of legroom thanks to a floor that delivers a nearly flat surface.
Toyota's knack for innovative technology is clearly present in the 2013 Avalon, as well, with plenty of features for enhances convenience and enjoyment. The sedan's display screen streamlines everything from the standard rearview camera view to entertainment information for the 2013 Avalon's standard 12-speaker audio system.
For the ultimate in enjoyment on the road, drivers need look no further than the 2013 Toyota Avalon at our NJ dealership. For more information on this outstanding luxury sedan or any of Toyota's other offerings, be sure to call us directly at (866) 788-5324 or to visit us online today.