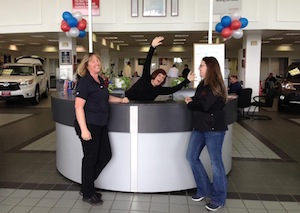 Here at Toyota of Morristown, we love to party with our customers! If you came to see us for Memorial Day or the Fourth of July, then we probably don't have to tell you that we had a blast celebrating Labor Day.
Customers who stopped by our Chatham area Toyota dealership had a blast during our end-of-summer festivities. From activities and entertainment for the little ones to delicious barbecue and our giant bubble cannon, the party was in full swing during the long weekend.
Best of all, of course, were the great savings during this last summer bash! Families were thrilled to find valuable opportunities when getting behind the wheel of all their favorite Toyota models. We're proud to say that many of our customers are all set to kick off the fall with great style from Toyota!
If you weren't able to make it out for Labor Day, though, don't be too distraught. There may not be any holidays in the immediate future, but there's still plenty to celebrate here in our showroom!
New Models and Special Offers Have Toyota Fans All Revved Up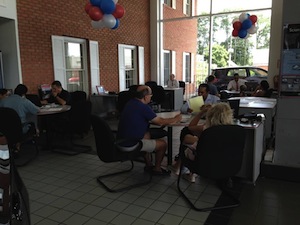 As many of our customers already know, we're always offering great Toyota specials at our dealership serving Chatham. With valuable offers on new and used Toyota models, drivers can find opportunities to save on many of their favorite vehicles.
We're also getting more excited every day for our incoming 2015 Toyota models! Toyota is an automaker that's dedicated to innovative and progress, and you can count on these models to bring the absolute latest in performance and technology to our showroom.
Even with the chill of fall starting to make its way into the air, we're far from finished when it comes to having a great time at Toyota of Morristown! Whether you're getting hyped for our latest arrivals or you're excited for our constantly changing special offers, it's always the perfect time to drop by the dealership.
For more information on our current specials and incoming 2015 models from Toyota, be sure to contact Toyota of Morristown online or to call our team directly at (973) 540-1111 today. We can't wait to help you get behind the wheel!