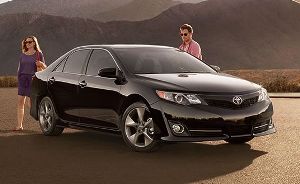 Fortunately for today's drivers, Toyota is an automaker with a firm grasp on the excitement that a vehicle can – and in fact, should – provide. In an age defined by technological advancement and rapid innovation, Toyota knows that there is no reason for modern vehicles to deliver anything short of an outstanding performance.
A perfect example of this is the 2014 Toyota Camry Hybrid, which delivers incredible efficiency alongside plenty of excitement and comfort for drivers at our Toyota dealership in Morristown. For drivers who want to reduce their fuel consumption without cutting back on their enjoyment behind the wheel, the 2014 Camry Hybrid is the perfect solution.
Best-in-Class Performance Sets the Stage for Excitement in the 2014 Camry Hybrid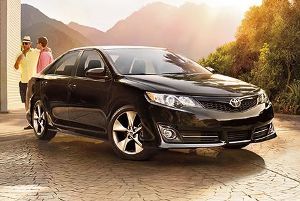 Under the hood, the 2014 Toyota Camry Hybrid is uncompromising in its pursuit of lively performance and amazing efficiency hand-in-hand. The secret to this one-of-a-kind formula is its 2.5L Atkinson-cycle engine and electric motor, which make use of the Hybrid Synergy Drive system for optimum performance.
The result is a combined 200 horsepower, which makes the 2014 Camry Hybrid the most powerful hybrid in its class. Add in EPA estimates as high as 43 mpg, and it's clear that the 2014 Camry Hybrid knocks out the competition with a one-two punch.
Of course, that outstanding performance is also accompanied by the incredible design that drivers have come to expect from Toyota. Plenty of features make for a world of comfort and convenience behind the wheel.
Standard features on all 2014 Camry Hybrid models include a smart key and cruise control, as well as power locks and windows. The 2014 Camry Hybrid XLE offers plenty of additional options, including leather seating, a sunroof, and multi-zone climate control with rear-controlled settings for optimum comfort throughout the cabin.
From nose to tail, the 2014 Camry Hybrid is loaded with the features and performance that today's drivers crave. To learn more about this exceptional hybrid, or to schedule a test drive, be sure to contact our Morristown Toyota dealership online or to call Toyota of Morristown directly at (800) 968-4141 today!