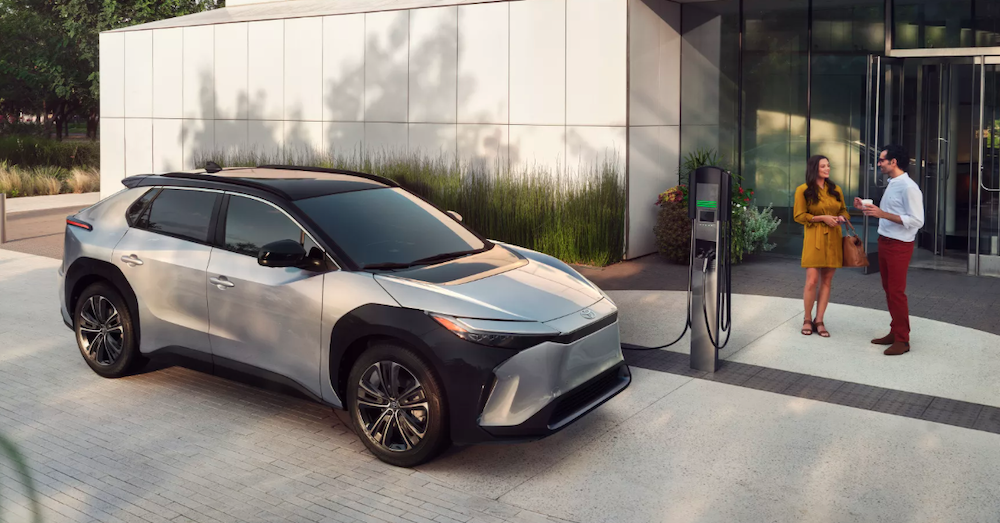 Toyota released its dazzling all-electric new 2023 bZ4X model in July of 2022. It's the first of many battery-electric Toyota bZ vehicles on its way to Toyota of Morristown. That's right: the new 2023 bZ4X is the latest addition to a line of electric cars that puts carbon neutrality and a zero emission philosophy first as it hits the road.
New 2023 Toyota bZ4X Highlights
Design
Sporting chrome body accents, black window trim, covered alloy wheels, and color-keyed outside door handles with touch-sensor lock and unlock features, the new 2023 bZ4X is sleek, smooth, and almost silent. If the exterior of the new 2023 bZ4X SUV impresses you, the interior may just lighten your mood even more with its front and rear ambient floor lighting and comfortable space for five passengers.
Technology
Toyota of Morristown knows how important battery cell integrity is when it comes to electric cars that help preserve the planet's habitability. That's we're receiving a vehicle that comes with a non-conductive coolant that helps maintain optimal battery temperature. The battery pack's technology also supports battery survival even in the face of collision.
Safety
It's safe to say that Toyota's engineers have covered nearly every base of the new 2023 bZ4X's appeal to planet protection and drive safety. This model will be the first to offer the newest Toyota Safety Sense package (TSS 3.0).
Performance and Peace of Mind
The new 2023 bZ4X blends the smooth ride of an all-electric vehicle with off-road performance capabilities on par with an SUV. More impressively, the car is designed to perform optimally in cold climates, boasting a 90% battery capacity retention rate up to 10 years post purchase.
Environmental Impact
Alternative fuel is the name of the new 2023 bZ4X game. Steering away from burning fossil fuels and focusing on the planetary potential that sustainable electric batteries provide, Toyota engineers integrated battery failure prevention and detection for this model in the following environmentally friendly ways:
Production that helps eliminate battery component contamination
Repetitive battery voltage monitoring
High resistance coolant circulation system utilization, with the goal of preventing short circuit fires cause by leaky battery coolant liquid
For drivers who appreciate and identify with the hi-tech, emotional design of the new 2023 bZ4X contact us today and visit Toyota of Morristown and ride into a sustainable future in style!