At Toyota of Morristown, we love to cut lose and show our customers a good time. We had such a blast on Memorial Day, in fact, that we're hosting an exciting 4th of July event in Morristown for our shoppers and their families to come enjoy!
Come visit us on July 4th and 5th from 11AM to 5PM for awesome Fourth of July fun! We'll have food, entertainment and, of course, special opportunities to get behind the wheel of your favorite Toyota models.
Our 4th of July Summer Sales Event is the perfect time to check out the Toyota you've been eyeing, all while having a great time. For this weekend only, every select new vehicle in stock is specially priced. Hurry in, though; these offers only last as long as our special 4th of July event!
Toyota of Morristown Invites Customers to Drop In for a Great Weekend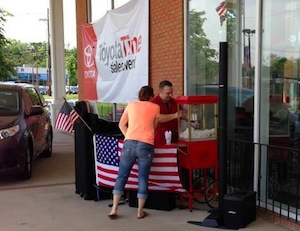 In addition to these great offers for our shoppers, we'll also have plenty of fun for the whole family to enjoy! We'll have the grill fired up, and you can bet that our complimentary old-fashioned barbecue will be finger lickin' good. The popcorn machine will be working overtime, too!
We're also be launching our bubble cannon, which always promises to be a good time. For the kids – and the young at heart – we've got a balloon artist and magician to add to the fun!
Our team is also excited to welcome back Erich the DJ Guy! Just like Memorial Day, he'll be fueling our 4th of July party in Morristown and spinning his arsenal of over 52,000 tracks.
With summer in full swing, the whole team here at Toyota of Morristown is excited to have a great time celebrating while helping you to get behind the wheel of the perfect new vehicle! To learn more about our special offers and 4th of July event, be sure to contact our Morristown Toyota dealership online or to give us a call directly at (800) 968-4141 today!